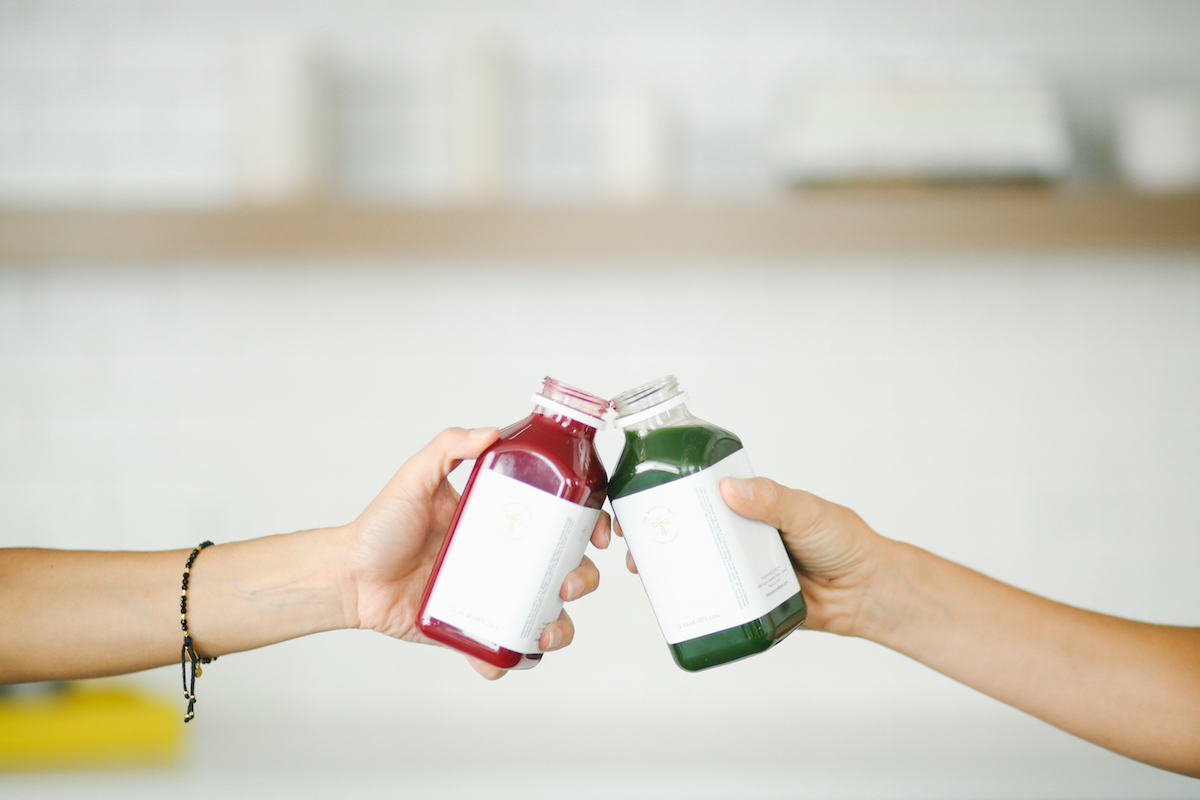 The Balanced Bee™ Cleanses feature a variety of our most popular cold-pressed juices and mineral dense bone broths for a delicious and nutritious experience that resets and rejuvenates.
-For those with specific dietary restrictions and needs
-For those looking to re-connect or challenge significant others, family members, team-mates, and even co-workers to a few days of dietary discipline.
BREAK THOSE DIETARY DOGMAS!!!
To cleanse is to clean.  We take pride in our customers' ability to seek insight about their bodies and lives through our cleanse process.  Each of our cleanse offerings are made to fresh to order and most are custom built to meet the needs of each individual; therefore, we need a 48-hour scheduling opportunity. Space is limited; however, regular membership can be negotiated for a discounted rate. Please just ask for the Queen Bee!
Our 3 and 5 day cleansers are also gaining access to our integrative health coaching experience along side their cleanse journey.  Health Coaching is a very supportive role while cleansing.
HOW OFTEN SHOULD I CLEANSE?
As much as we would love for you to strictly "drink the juice", we do not recommend it for THE BALANCED BEE.  Our lifestyle is a great way to incorporate more minerals and nutrients into your daily, weekly, monthly, and even yearly regimen.
Your digestive system was designed to work. We suggest giving it a conscious rest through our cleanse offerings a few times per year.  We always suggest to listen to your body and stay true to you; however, we are here to help and BEE-lieve that planning is key when seeking balance!
BEE WELL!
Choose from our 1, 3 and 5 Day Cleanse Programs. Pick up your 1 day cleanse with no scheduling required! For 3 and 5 day cleanses reach out in advance and work with one of our wellness experts to create a tailored package based on your health goals. 5 day cleanses come with superfood snacks included. 
CLEANSE PROGRAMS: 
1-DAY: designed for routine maintenance. Crated in store, to go!  
3-DAY: reserve your spot via text to 309.427.0833 for a custom cleanse experience!
5-DAY: reserve your spot via text to 309.427.0833 for a custom cleanse experience PLUS receive a FREE 30 MINUTE INFRARED SAUNA 
A couple days prior to starting the program, it's a good idea to start eliminating coffee, alcohol, dairy, red meat, sugar and white flour bread products. Maximizing fruits, veggies and whole grains will make the transition to a juice-only program much easier! With our cleanuse programs you'll drink 6 juices per day for 1, 3 or 5 days. 
For first timers
For those wanting to maintain a healthy lifestyle
For highly active individuals that require a higher calorie intake
USDA Certified Organic
Non-GMO
Kosher certified
Dairy-free, soy-free, gluten-free
Pricing: 1-day is $55, 3-day is $180, 5-day is $300
INFRARED SAUNA:
30 MIN 1 PERSON EXPRESS: a warming + healing experience. $30
60 MIN 1 PERSON FULL: take your detox to the next level, relieving your system of toxins, igniting your happy chemicals, + healing through heavy sweat chromolight therapy! $55
30 MIN 2 PERSON: need a quick catch up with a friend or loved one? $55
60 MIN 2 PERSON: invest in yourself + a friend to connect through sweat + music. A healthy HOT BOX FULL OF JOY!!! $100
HEALTH COACHING:
Need health help BEE-yond a quick in-store visit? Let's sit down to discuss How We can BEE of assistance!  Our cetified wellness experts will work one-on one to create a unique roadmap.