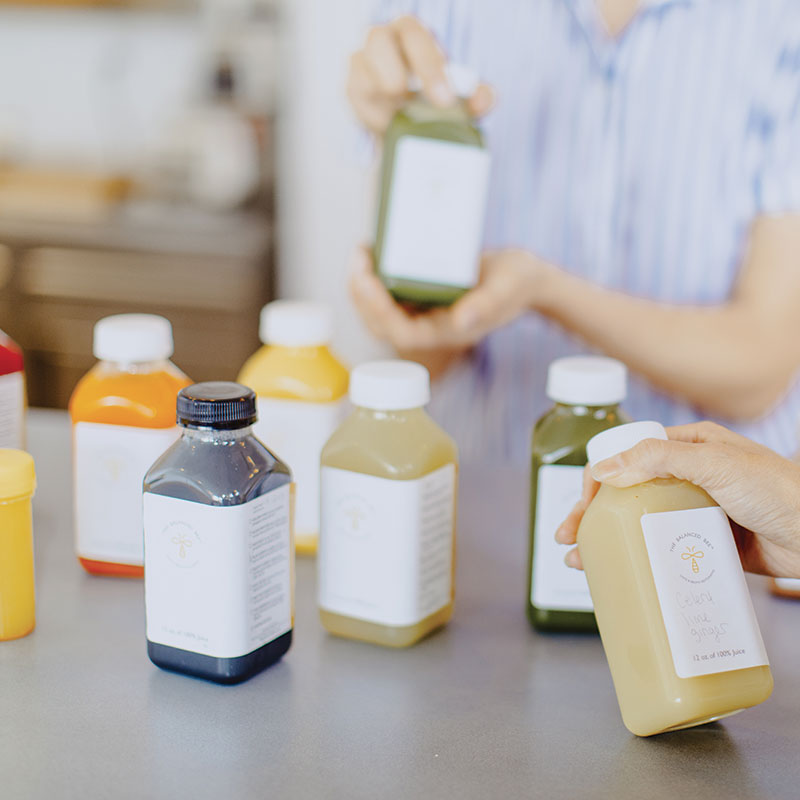 organic juices are UNPASTEURIZED + kept RAW
Restoratives
Practice Juice + Broth restoratives with the leadership of our Founder, Annie on a regular, seasonal, or yearly basis.
BEE BALANCED. BEE HAPPY. BEE YOU.
---
Annie works to evaluate your overall health using her background in Kinesiology, Athletics, Integrative Nutrition, and Business.
Text 309.427.0833 to let us know you are interested in one of our 3 or 5-day professionally guided Restoratives! 
After your initial complimentary consultation, Annie will design an individualized lifestyle path based on your goals and any imbalances that are discovered in your phone/text session.  A system of modern-day healing rituals, guidelines, and food protocols are specifically designed for you to
BEE BALANCED. BEE HAPPY. BEE YOU.  
1-Day Routine Maintenance
(you BEE the leader. no reservation necessary. BUZZ by anytime.)
---
Perfect for those looking for nature's own remedy to regularly maintain enzymes, nutrients, and alkalinity. 1-day is also highly recommended for individuals prepping or post-surgery!
---
BUZZ into our Metro Centre location and a WORKER BEE will assist in organizing 1-day of GOOD BUZZ ONLY to set you up for success.
---
Select 6 of any: raw juice and/or bone broth
3-Day BEE Rejuvinated
(let us lead. please reserve your spot in advance via text 309.427.0833)
---
Practice 3-day cleansing with the guidance of a certified professional. This partnership creates the perfect combination for kickstarting optimal health. We will help to gently educate you about our cleanse, answer any questions and dietary restrictions you might have, helping you to achieve a more balanced emotional + physical state of being!
Offered every week, Annie designs an assortment of raw organic, custom-blended juices and our bone broths +/or veggie broth to give your digestive system a rest! You will receive 6 liquids per day to consume!
*ideal for digestive system rest, pre or post-surgery, bloating, and kickstarting a path into optimal health + healing. 
5-Day Focused + Independent
(let us lead. please reserve your spot via text in advance 309.427.0833)
---
Perfect for those awake to the restorative benefits of raw juice + broth, and looking to extend their healing process.
Our 5-day fasting routine will prepare your body + mind to clean on a cellular level, get into fat-burning mode, and restore in a safe way with the help of wellness expert, Founder + Plant-Based Chef, Annie Parks.
Offered 1x per month, Annie works to design a menu of customized freshly prepared raw juices + broths, functional plant-based snacks, blended soups, and 1 Ayurvedic meal designed to help support your system re-align with itself.  You also receive a FREE 30 minute Infrared Sauna Session!
*ideal for healthy lifestyle reset, pre or post-surgery clean up, healthy balance + inspiration leading into holidays, and overall balance + healing.  Your health is your journey.